Start Your Limited Company Online Today
Register your Limited Company in 4 easy steps!
Over 600,000 Companies Incorporated in the UK in 2020.
---
Check if your company name is available
Registration Number in 3 Hours

Authorised Formation Agent


Companies House £12 Fees Included

Pricing Starts at £14.99


12 months free business banking
with every new incorporation
How to Start a Limited Company Using the
OnlineFilings™ Platform?
All your Companies House & HMRC filings in one place
1. Check your company name availability
Check instantly if your desired company name is available to register. Select a company incorporation package and option that's right for you.
2. Fill out our short application in less than 10 min
Select one of our formation package then fill out a short and simplified 100% online application. Just click on submit and your application is sent electronically to Companies House and/or HMRC
3. Receive your company registration number
Start trading in a few hours. Incorporation documents are available in your online dashboard as soon as your Company Registration number is issued. Printed docs are sent out the next day.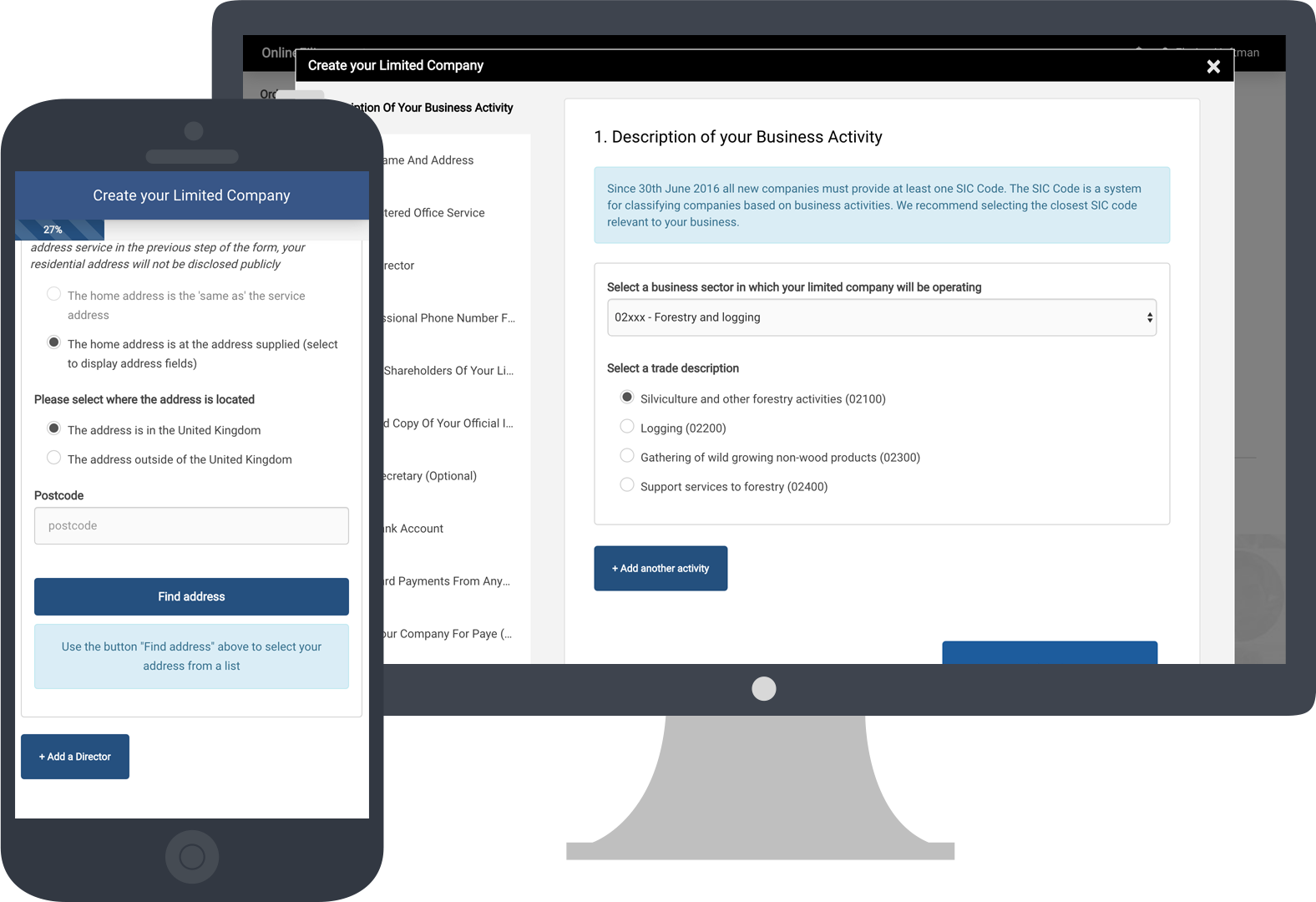 Top 13 frequently asked questions
when starting a limited company
What is a limited company?
Suppose Will is a roofer and wants to work for himself. He could register with HMRC and become a 'sole trader'. This means that he has informed HMRC that he will be making money from his roofing activities. This way, he has his own business and is personally liable for any debts he incurs in his business. His money and the business' money is not separate. If he loses money he is personally responsible for any debts. He could lose his personal savings and his house. This is a 'sole trader'.

Another arrangement would be to trade as a 'private limited company'. To do so, Will would need to register the business with Companies House. He will then become both company owner (shareholder) and director. Legally, he and his business would be seen under the law as separate entities. The main advantage is that Will is not liable personally for debts incurred by the company and the most he can lose is the money he's invested in the company (he can start with as little as £1 invested in the company).
What are the benefits of being a limited company?
The key benefits are:
Protection from bankruptcy
Having a limited company limits your liability over what happens to your business. All business financial transactions are separate from the business owners. The most that you stand to lose is the amount you invested in the company, meaning, you won't lose your home or car if something goes wrong. If your company is sued, it is the company's responsibility rather than you personally subject to you acting lawfully.
Commercial credibility
Companies are more likely to be interested in working with a limited company. You appear more established to potential clients. In some industries, it is impossible to trade if you are not a limited company. For some business owners, it will be important to appear bigger than they are and being a limited company helps this.
Good for expansion
If you are looking to expand your business and attract investors, you will need to have a limited company that outside investors can buy shares in.
What information do I need to provide to start a Limited Company?
In order to register a limited company you will need the following:
Name of the company;
Nature of business (activity);
The company registered address i.e. the address which will appear on Companies House official register (you can use your home address if you do not have an office yet or the OnlineFilings™ registered office service if you want to keep your home address private);
The company directors' personal information (including date of birth and home address);
The company shareholders' (owners') personal information
What name can I call my company?
There are certain rules you need to stick to to get your company name incorporated with Companies House.
You are free to choose any name as long as it follows these rules:
Your company name cannot be the same as a company already registered with Companies House;
It's not too similar to another registered company name or trademark;
It is not offensive;
Your company name does not include a 'sensitive' word or expression (such as 'Standards' or 'Bank') or suggest a link with the government or local authorities. To use a sensitive word, you will need permission from an accredited body.
All limited companies must have 'Limited' or 'Ltd.' at the end of the name, or, if you've registered in Wales, 'Cyfyngedig' or 'Cyf'. There is no difference as to which ending you select. The decision is purely aesthetic, and has no impact on how your company is run.
You do not have to use 'limited' in your name if your company is a registered charity or limited by guarantee
Do I need to open a business bank account when setting up a limited company?
Under U.K. law - Company Act 2006 (C46) a limited company is seen as a separate legal entity. Keeping your personal and business finances separate is not only a smart practice, it limits your risk and impact on your personal assets. You must open a business bank account for the newly incorporated company.
Do I need to register for VAT?
If your revenues (sales) are likely to reach or go over the £85,000 turnover threshold on a 12 month basis, you are legally required to register for VAT with HMRC. However, even if you don't hit the threshold, you might want to consider registering for the following reasons:
- If you register for VAT you will be able to claim back the VAT on your expenditure
- It's more likely your business will be selected for larger projects if you are registered for VAT.
When can I start trading?
As soon as you have filled out the online registration form, your application will be submitted to Companies House. It typically takes 1 business day to incorporate a company, but this will also depend on the package you select upon placing your order. Once your company is registered you will receive an email with your Company Number, your Incorporation Certificate and Authentication Code. You can start trading from this point.
What is the difference between directors and shareholders?
Every limited company must have at least 1 director and 1 shareholder. The limited company director(s) is the person who is responsible for the day to day running of the company. Shareholder(s) are the owners of the company. In most small businesses, the shareholder and the director is the same person. Companies House requires the shareholders of a limited company to have at least one share. There is no limit to the number of shares held by a shareholder and the value of each share can be as little as £1.

Take the example of Adam. Adam wants to open a bakery. He doesn't have enough money to set-up the business on his own, so he asks his brother, Jack, for help. Jack is interested in investing £30,000 into Adam's business. With Adam's initial investment of £20,000 the business now has £50,000 of capital. Jack is not involved in running the business. He has invested money, so he owns part of the company; he is a shareholder. Adam, on the other hand, will be both the shareholder, as he invested into the business, and the director, as he will be running it. Adam now owns 40% and Jack owns 60% of the shares in the company.
What are the responsibilities of a company director?
A company director is the person responsible for the running the day-to-day operations of a company. If you're a contractor, your activity will be considered as the day-to-day operations of the company. As a director, you need to make sure that all required filings to Companies House and other government entities are sent on time. These include the confirmation statement, annual accounts and tax returns.
Do I need to register the business for PAYE?
PAYE is HMRC's system to collect Income Tax and National Insurance from employment. By law, you have to register for the government payroll system PAYE (Pay As You Earn) if you pay yourself or employees more than £118 a week. You must register before the first payday or you may be fined up to £400 per month by HMRC.
Do I need to use the services of an accountant after registering a company?
In most cases you will not be legally required to have an accountant, meaning, you can file your accounts and do your compliance filings at Companies House yourself. However, as it is very complicated and time consuming, having an accountant is strongly advised. It removes administration burdens and allows you to focus on growing your business.
How do I get paid as a limited company?
There are three ways to withdraw money from your limited company.
Expenses - if you personally spend money on behalf of your company, you can claim these as business expenses. For example, if you buy a rail ticket to go to a contracted job or business meeting you can move that from your company bank account to your personal one as long as you can prove this was a valid business expense.
Dividends - these are payments made to shareholders (owners) of the company and can only be made from company profits.
Wages - these are payments for your employment as a company Director. You pay Income Tax and employee's National Insurance on them as well as employer's National Insurance. If you pay yourself (or employees) more than £118 per month, you must register for PAYE before the first payday or you may be fined up to £400 per month by HMRC.
Many limited company owners pay themselves £8,164 per year to removing the need to pay National Insurance contributions whilst still qualifying for the state pension. They would distribute dividends afterwards. Dividend incomes are taxed lower than wages.
Do I need to tell HMRC when I set up a limited company?
Companies House will inform HMRC when your company has been incorporated so you don't have to contact them yourself. HMRC will post a letter to your registered office address with your company's Unique Taxpayer Reference (UTR) after incorporation. You will need this for paying Corporation Tax. You will need to contact HMRC to register for PAYE and VAT. OnlineFilings™ now offers you the opportunity to register for PAYE and VAT at the time of incorporation of your limited company.
Why use the

OnlineFilings™ Platform?
We deal with the admin
while you focus on your business
All your Companies House & HMRC filings in one place
OnlineFilings™ has a direct electronic link to Companies House and is supervised by HMRC for anti-money laundering. The OnlineFilings™ incorporation and secretarial filing software are authorised by Companies House and the platform is registered as a HMRC agent.
Fast and Easy Process
The OnlineFilings™ platform removes the admin burden and saves you time. Companies House & HMRC registration forms are streamlined and our online digital assistant provides useful tips for step by step support. You can add premium services to your business such as business banking accounts and business insurance during your registration process.
Lifetime Customer Support
Call, email or chat; we're here for you. We provide help with added services after your business has been incorporated.