Setup A Dormant Company In Minutes
Register Your Dormant Limited Company Online in 4 Easy Steps!
Benefit From Reduced Administrative Requirements.
---
Check if your company name is available
Registration Number in 1 business day

Authorised Formation Agent


Pricing Starts at £49+VAT

Companies House Fees Included


How to Register a Dormant Company
Using the OnlineFilings™ Platform?
All your Companies House & HMRC filings in one place
1. Check your company name availability
Check instantly if your desired company name is available to register. Select a company incorporation package and option that's right for you.
2. Fill out our short application in less than 10 min
Select one of our dormant company registration package then fill out a short and simplified 100% online application. Just click on submit and your application is sent electronically to Companies House.
3. Receive your company registration number
Once your dormant company is incorporated you will receive your incorporation number by email. You will also have the option to order a paper copy ot the incorporation certificate.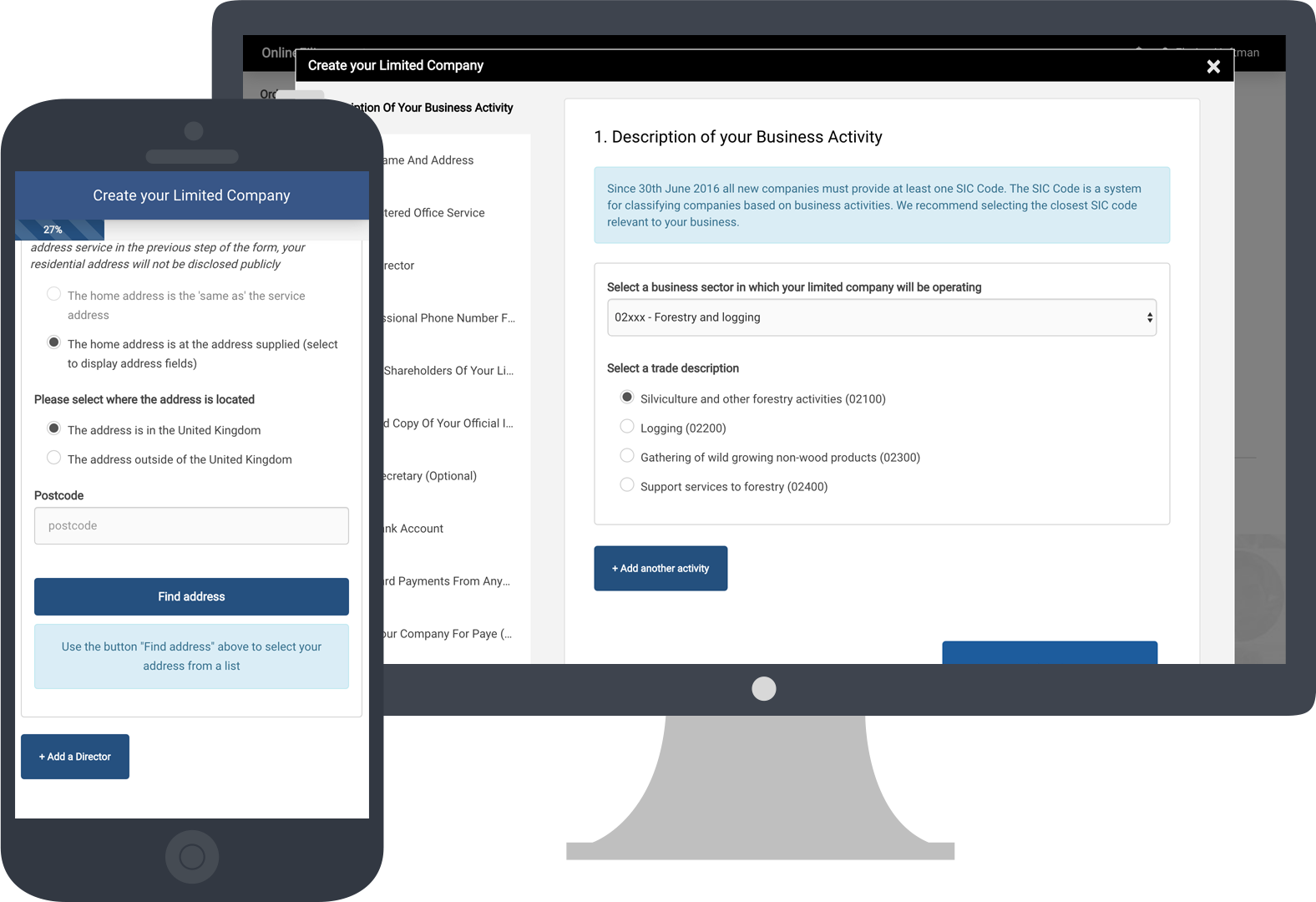 What You Need To Know Before
Setting Up A Dormant Company
What is a dormant company?
Both Companies House and HMRC have their own definition of what is a dormant company.
HMRC defines a dormant company as a company which:
Is a newly incorporated limited company that has not yet started trading;
Has stopped trading and has no other income (such as investments);
Is an 'unincorporated association' or club owing less than £100 Corporation Tax;
Is a flat management company (also know as 'right to manage')
Companies House define a dormant company a company which SIC code (Standard Industrial Code) is 99999. Such company Companies House has had 'no significant accounting transactions' during its financial year, i.e. any transaction which should be entered in a company's accounting records. For a company to be dormant for Companies House, its transactions must be limited to:
Payment for shares;
Fees paid to Companies House for a change of company name;
Re-registration of a company;
Filing confirmation statements (formally known as annual returns) and annual accounts;
Payment of penalties imposed by Companies House
What are the 3 main reasons entrepreneurs set up a dormant company?
Both Companies House and HMRC have their own definition of what is a dormant company.
HMRC defines a dormant company as a company which:
To set up a company you intend to use in the future:
You might have a new business idea in mind and want to get everything set up in advance. Alternatively, you could have preparation to do before you can actually start trading. By forming a dormant company, you can be ready to trade at short notice, and in the meantime it can remain dormant.
To protect a business name:
You want to ensure the company name is registered to prevent your competitors from doing so. Unless you register a dormant company, there is nothing stopping someone else forming a limited company with the same name as your business. This why many sole traders decide to set up a dormant company even though they prefer operating as self-employed.
To hold a fixed asset such as a property:
You can set up a limited company - sometimes called a Right to Manage or flat management company - so residents can jointly run a property. For such flat management companies, a separate Residents' Association Company will usually handle management income, expenses and legal issues, meaning that the flat management company itself should meet the conditions required of a dormant company
What are the statutory requirements of a dormant company?
As any limited company, you must file a confirmation statement every year as well as the company dormant account. We recommend that you select the "Compliance Package" during the registration process which includes all your yearly statutory filing.
How to make a dormant company active?
The easiest way to make a dormant company active is to change its activity (SIC code) from "99999" to any activity SIC code. You need to change the status of your company within 3 months of becoming active. Alternatively, you can also sign up into your company's HMRC gov gateway account and change the status of the company to 'active' for Corporation Tax.
Why use the

OnlineFilings™ Platform?
We deal with the admin
while you focus on your business
All your Companies House & HMRC filings in one place
The OnlineFilings™ has a direct electronic link to Companies House and is supervised by HMRC for anti-money laundering. OnlineFilings™ incorporation and secretarial filing software are authorised by Companies House and the platform is registered as HMRC agent.
Fast and Easy Process
The OnlineFilings™ platform removes the admin burden and saves you time. Companies House & HMRC registration forms are streamlined and our online digital assistant provides useful tips for a step by step support. You can add premium services to your business such as Business bank account insurance during your registration process
Lifetime Customer Support
Call, email or chat; we're here for you. We provide help with added services after your business has been incorporated.